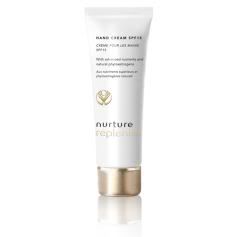 I have been such a diehard L'Occitane fanatic for so many years when it comes to handcream but this one is now my new go-to for gorgeous soft hands.
Nurture Replenish hand cream
is now a permanent fixture in my handbag, it goes with me everywhere. At £6.45 it's an absolute bargain and I have even converted my Mum to using it too!
The reason why I have fell in love with this hand cream is because my hands felt velvet smooth for many many hours after one single application. I can use some of this at 11pm before I go to sleep and my hands will still be nice and silky the following morning when I wake up. Now that is impressive! I have never found a hand cream with such durability therefore Nurture Replenish gets a very big (and velvety smooth) thumbs up from me.
Teresa x