After seeing an article earlier this week regarding bad tan lines, it got me thinking about how bad some people do look when they obsessively bronze themselves, whether it be by way of sun rays or a sun bed at a local tanning salon. Either way, it is very unattractive. These poor tanorexics do not seem to have a clue how stupid they look or even when to stop.
I doubt they realise how haggard they look, but more importantly how high their risk of skin cancer is.
And we have all witnessed these tanorexics whilst on holiday - they are the first ones on the sun loungers in the morning and they are the last ones to leave at sunset. They rarely move from their sun lounger other than a toilet break or to take a walk around the swimming pool. They don't go in the pool and they certainly do not go inside for lunch during peak tanning hours 12-2pm. They bake themselves within an inch of their life, literally, and their only accompaniment is a pack of Marlboro Lights and a bottle of Hawaiian Tropic.
And what are the results? A wrinkly, frazzled, leather-faced person who will have a tan all year round. Somebody who has unnecessarily abused their body and caused premature ageing to such an extent they look at least 10 years older than their friends.
Here are some eyesores which I have found: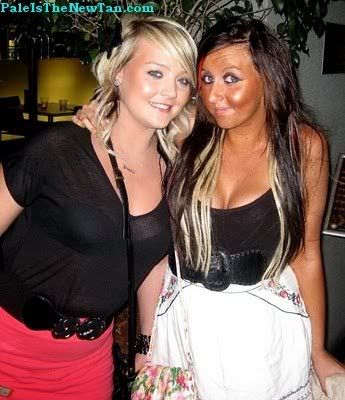 It is a real shame these people are cooking themselves in the vain hope they will be deemed attractive. It is heartbreaking to think anyone considers this a good look. A tan doesn't make you beautiful. An over-the-top tan makes you look desperate and what's more disturbing is how ignorant you are to the risks of melanoma.