We all know how I am a big fan of Oreo biscuits and I frequently make the
Oreo Brownies
using the
recipe by Lorraine Pascale
which was featured on the blog many months ago. They are a massive hit with my family and friends. But now I have found an even better recipe for sheer pornographic chocolate indulgence!


INGREDIENTS
1 cup butter softened
1 cup sugar
4 eggs
1 tsp. vanilla
1/2 cup unsweetened cocoa
1 1/3 cups flour
1/2 tsp. salt
1 pkg. Double Stuffed Oreos
4 oz. cream cheese softened
10 oz. Dipping Chocolate



INSTRUCTIONS
1. First things first - Preheat your oven to 180C.
2. Cream the butter and sugar together until light and fluffy.
2. Now add the eggs but ensure to mix well.
3. Carefully put in the vanilla, salt, cocoa and flour. It is important to only beat slightly, don't overdo it.
4. Once complete place the mixture into a greased 9X13 (32.5x23cms) pan. Bake for 20-25 minutes
then allow to cool completely.

5. Whilst waiting for your brownies to cool you can make the oreo truffle layer. Grab a plastic/freezer
bag and place the oreos inside, now the fun bit, get smashing with a rolling pin until they are finely
ground.
6. When oreos are totally crushed, mash together with the softened cream cheese and crushed oreos
with your hands until they are well combined. As soon as the brownies are definitely cool you can
then place the layer of oreo truffle on top. This is quite tricky to do without eating the truffle mix.

7. Melt the dipping chocolate over hot water in a pan (you can use chocolate chips) and once melted
pour and spread over the top of the oreo truffle layer. Cover and put in fridge for an hour until set.

8. Now go and make yourself a cuppa ready to eat these sweet treats.


Here's Debbie's attempt at Oreo Truffle Brownies and my goodness, they were yummy!!!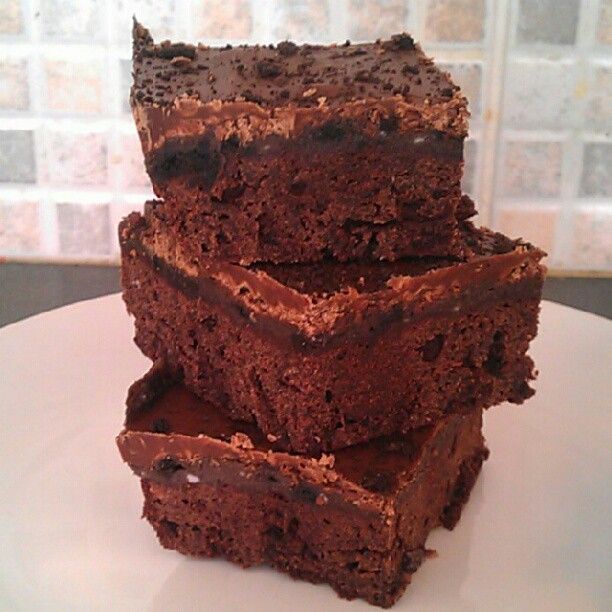 These chocolate delights did not last long after this picture was took
Debbie
found this recipe on
Chef-In-Training website
, I think I shall be popping over to take a look at what other heavenly treats there are to try once I've put my belt down a notch.
Yours in chocolate heaven.
Teresa x