Last week I was sat chatting to my friend Caroline discussing what to wear for an upcoming event we are both attending. Caroline was looking for a stylish dress in a size 18 and she pointed out how
I Am Into This
never features clothes for the larger lady. And she was right. We never have and I am quite ashamed I have never written a blogpost for plus-size fashion; especially when the one thing I have always wanted to maintain with I Am Into This is to
KEEP IT REAL
.
Keeping it real would be to feature articles for the real woman, the real woman being my readers!
Caroline then went onto say that the shops we do feature, such as
ASOS
, do not even stock clothes for her size. I quickly corrected her and said "Yes they bloody well do, they have the
ASOS
Curve range."
Caroline looked at me quite baffled and replied. "Teresa, I am always on
ASOS
website and I have never seen any clothes in my size so I just look at shoes and accessories."
I grabbed the iPad and immediately showed her what I was talking about. Caroline's jaw dropped to the floor.
Caroline: "Oh my goodness, how have I never known about this?"
She then sat there riveted occasionally letting out a 'ooh' and a 'aarr'. Fifteen minutes later she had purchased a beautiful navy tulip dress and sat proudly with a huge grin on her face.
Caroline: "I am so pleased I have discovered they sell clothes in my size. Problem is I am going to be skint now because I will be buying loads from
ASOS
."
So, I thought today I should share with you some of the lovely items from the
ASOS
Curve range because if Caroline didn't know anything about it then maybe lots of other ladies don't know either.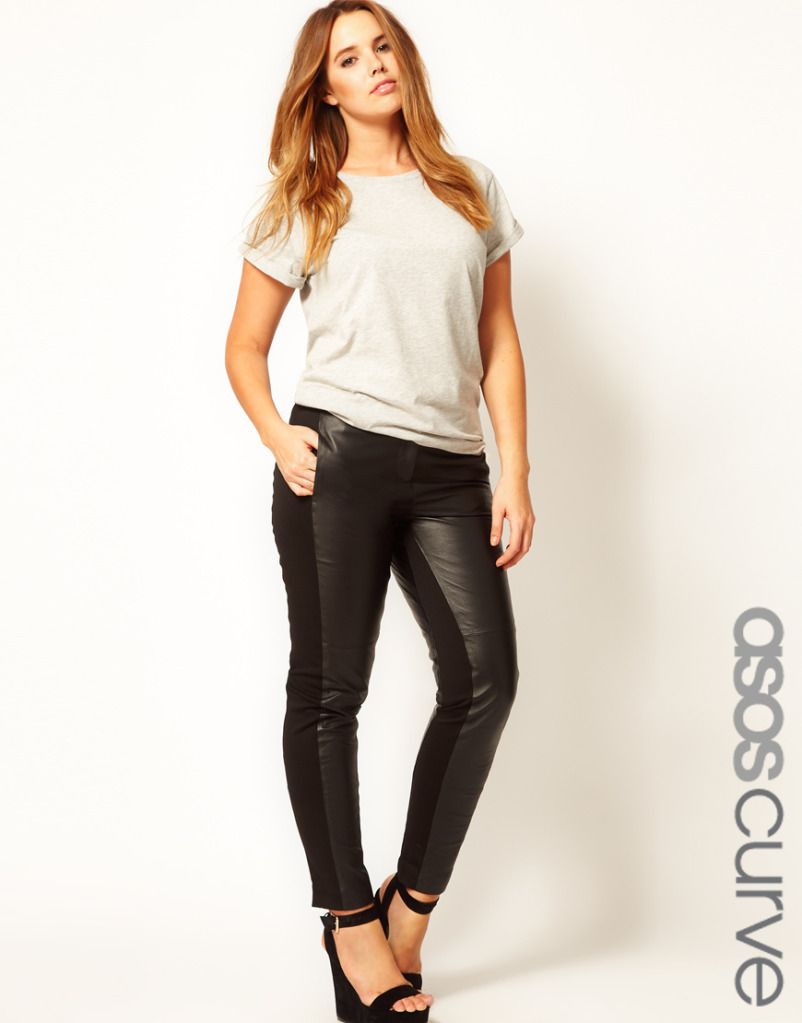 Leather panelled trousers, £90
The
ASOS Curve range
is jam-packed with some stunning pieces, at the moment there are 313 in fact! All of which are trend-led, plus size clothing designed to flatter the fuller figure. From dresses and jeans to tops, trousers and belts for sizes 18 to 26.
So, how many of you knew
ASOS
did a plus size range? If you didn't then spread the word because their Curve range is pretty darn good and beats some of the other plus size shops on the high street.