When it comes to wearing a wedding veil you are probably thinking whether to have a short, mid-length or a full on cathedral length veil, but there is so much more to it than that.
Firstly, you can have one tier, two tier or even a three tier veil and then there is the decision of where to place your veil - top of your head or at the back? And do you want the veil to cover your face?
Below I have put together a lot of different images from
Style Me Pretty
on different boards showing you a huge array of veil ideas - whether it be a simple blusher veil or a Mantilla lace veil. The choices are endless.

A Mid-Length veil is a popular choice, the length can fall anywhere from the elbow to the lower hip. The bride (top left) has more volume in her veil and I must say, I love this look. I do love the lace edged veils too (middle right and bottom right) they are so pretty and will add the extra detail if your wedding dress is a simple style.

I love the length of the bride's veil (middle left), it suits the style of her dress perfectly and no other hair accessory is needed.
LOVE the colourful embroidery on the brides (top row) veils, and the orange indian veil is ruddy lovely.
If you are a bit more hip and want to wear a veil which is more you and you're not into the traditional style veil then go for something different and wear it in a similar style to the brides (middle and bottom row). I am in awe of the (middle left) bride's bandana styled veil.

A blusher or a vintage-inspired style veil is perfect for the bride who wants to stand out. Definitely for a stylish lady who is no plain Jane. I cannot stop staring at the bride (bottom left), the dress and the veil is utter perfection!

Fun and fluffy. Yep tulle adds some oomph to your look when you use it for its volume and use it as an alternative to a simple veil. If you can carry off this look then I say go for it! I think it's ace!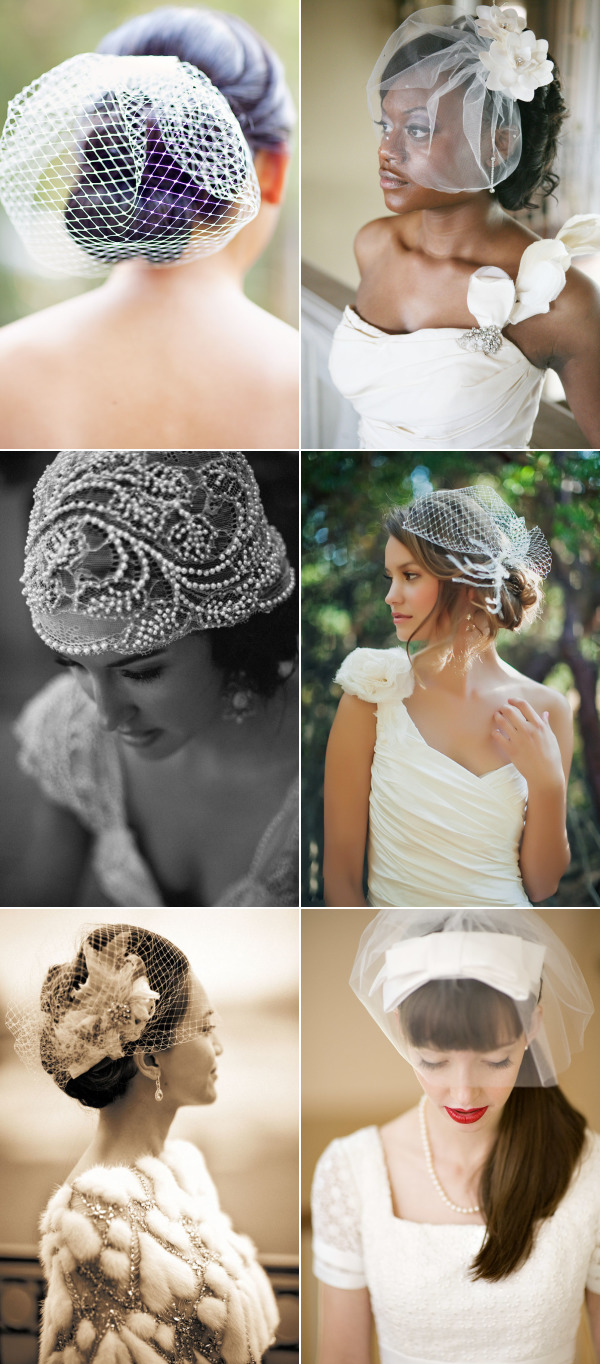 This style board has got to be my favourite, I adore every single one of these looks. The bride (bottom right) with bow and tulle covering - cool as, especially with the red lips!

Nothing says glamour more than when you have a cathedral length veil. Not only will it look absolutely amazing when you walk up the aisle but it is going to make for some fabulous wedding photos when you swish it around!

How magnificent is the extra prettiness of a detailed edge on your veil? All of these veils are heavenly and will most definitely be handed down to future generations to wear on their special day too.

The chapel length veil is a great choice for the bride who wants the length but not that of Princess Diana epic proportions. Having a veil cascading the entire length of your wedding gown softens the overall look and gives it a more romantic feel.
I hope you have found these many veil images a lot of help in deciding on which length or style of veil to choose. I know there are many brides out there who really do not want to wear a veil but feels that they have to because of pressure from others. If you do not feel comfortable in wearing a veil, then don't! It is your special day and it's your wedding photos you will be showing for many years to come.
If you do choose to wear a veil then do remember you do not have to wear it all day and night, most ladies remove their veils prior to the wedding breakfast, which I think ties in with an etiquette rule of ladies (mother of the bride, etc) removing their hats too.
If I was getting married again (if only we could wear a wedding dress every year!) then I would love to wear one of the shorter veils, I love the blusher veils!
Happy Wedding Wednesday
Teresa x
P.S. Wishing Elissa Miller from
Magpie Miller
all the best for her wedding this Saturday!