Instagram pic taken on iPhone
I have asked this question a few times on Google and never been able to ascertain what is best for my son.
My frustration is that there are so many campaigns aimed at men to use skincare products but how can you preach to men to use a cleanser, moisturiser or an aftershave balm when they never had anything decent to use during the early years of spotty teenage skin. They were told to only use aggressive facial washes.
We all know there are plenty of facial washes which are aimed at eradicating teenage acne but I would not dream of letting my son use such harsh chemicals to his face. Firstly, he is not a spotty teenager, he simply has the odd little pimple on his nose now and again, and secondly, I don't want him to use a facial wash which will literally strip his face.
NOW, if he was a girl I would know exactly what to do. Buy a gentle cleanser, gentle moisturiser and some cotton wool pads for her to use everyday. All of which are aimed at the female market. Perfect. However, I do not feel I can insist for my son to use these products too because he will be vey embarrassed and I would imagine he will hate me forever for making him do such a girly thing.
But there is no way I can buy him one of these facial scrubs either, simply because his skin does not require it. Teenage boys need a gentle cleanser and gentle moisturiser but there is no gentle skincare products in the mens beauty product market.
So please, please, please can the popular skincare brands for men invent a kind-to-skin product for teenage boys to use and PLEASE advertise on the television and in magazines so boys will not think they are being feminine if they do take good care of their skin.
Myself and all the other mothers of teenage boys would really appreciate any advice. We all feel the same about this and feel there are no options for our sons.
I asked this question on Twitter and thankfully, a skincare/beauty expert answered my plea. The wonderful
@Buffbeautyblog
gave me this wonderful advice
"@teresa_iam I'd start him off with a good face wash for the time being and weave in some moisturiser when he gets to the shaving age."
and the lovely
Gemma Bolton from Buff Beauty
recommended me this skincare product. I have snapped this up as it is such a decent price and perfect for what a boy needs when starting a skincare regime. Thankfully as it is called
Bulldog
he will not be put off thinking it is too girly.
Packed with 8 essential oils and green tea to gently cleanse your face of dirt and debris. None of Bulldog's products contain parabens, sodium laureth sulphate, artificial colours, synthetic fragrances, or ingredients from animal sources and for £5.19 I think this facewash is the answer to my son's skincare regime.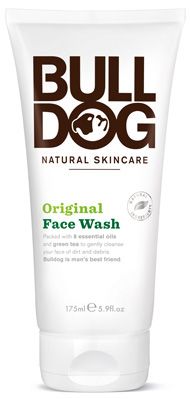 Now my next issue is actually getting him to have a wash. Typical teenage boy!
Teresa x