I don't think it's any big secret that we love the Cambridge Satchel Company. In fact, it's kinda obvious that we adore them - you only have to read this post to see that.

One of the country's biggest success stories in recent years, their multi-coloured satchels are this year's hottest accessory. Every fashion blogger worth his or her salt has been snapped carrying one of their trademarked fluoro bags, while celebs including Alexa Chung and Sophie Ellis Bextor have been papped with their satchels.

So, when Teresa and I were invited to go and visit the company's HQ in Cambridge (where else?) you can imagine the squeals of delight. No, scrap that...we actually screamed. And danced, maybe just a little. It was the stuff of our fashion dreams...

I hope you enjoy reading about our day every bit as much as we enjoyed it.


Sam and Teresa x

P.S If you like this post, be sure to check back with us next Thursday for part two - we'll have pics of our new bags and images from the factory!
From the moment a giant boxer dog bounded up to us, it was clear that we were going to love the Cambridge Satchel offices every bit as much as we love their bags. Surrounded by a rainbow of satchels and the smiliest receptionist you're ever likely to meet, it was obvious that this wasn't just any old office.
Why? Well, this isn't just any old company for starters. It's a family-run business, a British fashion legacy in the making - and it also happens to have one of the most inspirational stories imaginable behind its beginnings.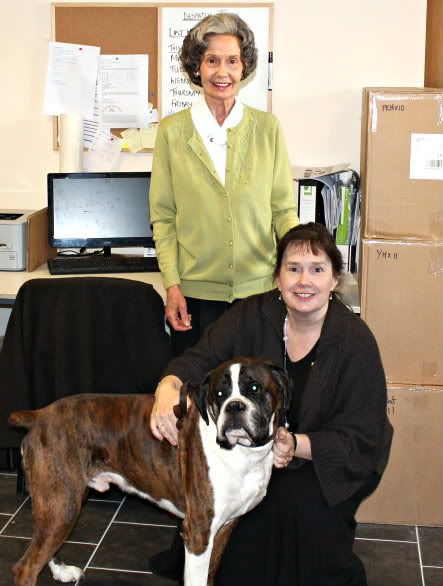 Freda, Julie and Rupert the famous dog
The company was set up in 2008 by mother and daughter team Julie Deane and Freda Thomas (officially the most glamorous gran you're ever likely to meet). Originally run from a kitchen, the Cambridge Satchel Company was started because Julie's daughter, Emily, was being bullied and they wanted to raise the money to send her to a private school nearby.
"Suddenly, I had to do something," Julie tells us. "That's the thing that drives you and pushes you so much, it's why we started the factory from nothing. And now, when you think that we're stocked in Harrods, Bloomingdales, Selfridges...well..." she trails off, rather modestly.
The classic satchel
Because, honestly, who could have possibly imagined the kind of success which the Cambridge Satchel Company has experienced? They went from selling just three bags a week to becoming international superstars. Pictured on endless celebs and featured in the windows of the biggest department stores in the world, CS even has top designers clamouring to work with them (more on that later!)
The satchels were inspired by the kind of bags you could imagine Harry Potter and Hermione Granger toting their books around in at Hogwarts. Yet Julie admits that she never dreamed they would become such a hit among the fashion elite, that they would become the success story they are today.
"I honestly thought that it would be schoolchildren and parents buying my bags!" she smiles humbly. "I never thought for a moment that it would become like it has."
We first meet Julie in a small office which is full to bursting with satchels. Her dog, Rupert, trots in alongside her ("He comes everywhere with me!") and then immediately launches himself at us for some fuss.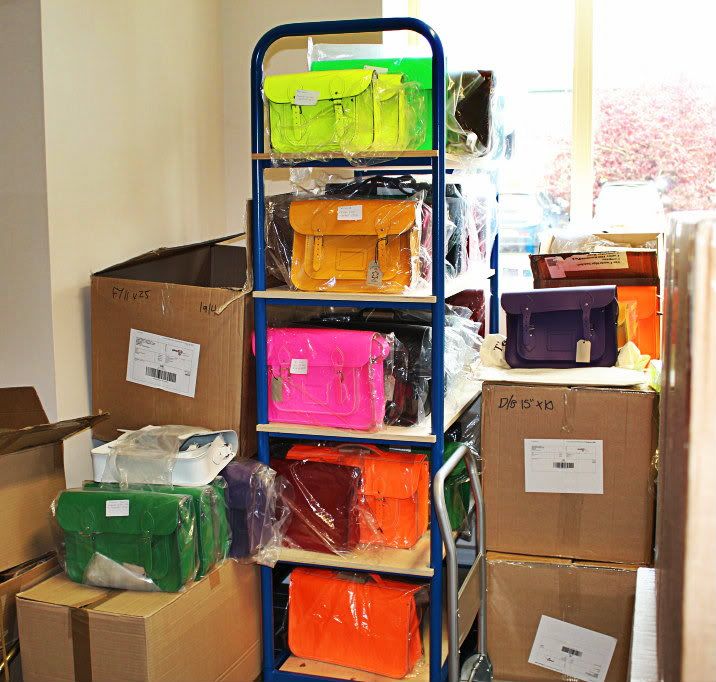 It's safe to say that we both stood completely stock still, our mouths slightly ajar. Boxes the size of a person surrounded us, bursting with bags in a whole array of sizes and colours - barbie pinks, highlighter yellows, classic tan leather, giant satchels in navy blue, or paddington bear red.
Rummage through the boxes and you'd find mini emerald green satchels nestled alongside dusky pink bags, or royal purple bags with bright yellow straps. In short, there was a satchel to suit every possible style, outfit and possible need.
It was like a child being in Willy Wonka's Chocolate Factory, or playing dress-up in Kate Moss' wardrobe. It was THAT good! We couldn't help ourselves as we raced around the room, peering into every box and squealing with delight.
Once we'd finally calmed down and settled in to chat to Julie over a mug of tea, we were beaming from ear to ear. It's easy to feel relaxed in her company - dressed simply and elegantly, she was warm, friendly and maternal. She was the complete opposite of the "Dragon" businesswomen which are all too common now.
In fact, it's that kind of attitude which makes CS so special, and probably why her staff adore her so much. Their PR, Jess Goody, happily told us how Julie knows every single one of her workers by name, and that instead of carrying a different bag a day, she lugs around one of the cast-offs, a satchel which was destined for the reject pile.
Sophie Ellis Bextor with her satchel at the Burberry show, LFW. Source
But despite its inspirational foundlings, it's the quality and simplicity of the bags which won them fans in high places, right from the very start. Each and every single bag is lovingly handmade in Britain, there's a huge demand for quality, which is apparent in every bag they sell. And if you've ever wondered how they make those fabulous fluoro bags, well...it's a trademarked technique which involves spraying the leather again and again to achieve the desired effect.
The fluoro bags being checked over in the factory

It's unique techniques like this which led Japanese giants Comme des Garçons sending them an email saying that they were massive fans when they were still working from their kitchen, while a pregnant Sophie Ellis Bextor was papped wearing one of their glitter satchels to the Burberry show at LFW.
"I remember when she ordered it," Julie smiles. "She simply ordered it through the website, didn't ask us for any special favours, and I just looked at my mum and said, 'Do you think there's more than one Sophie Ellis Bextor?' My mum said that we should write to her and ask, so I did and Sophie replied saying, 'I'm Sophie Ellis Bextor, the singer' - just like that!"
"We've been so lucky because people see that we are a genuine, British company - I just want to get the job done every time. We try to do everything properly, and people see us doing that and support us."
Julie is incredibly humble and modest, yet even she couldn't fail to have her first pinch-me moment when they visited 10 Downing Street. They had just won the Start-Up 2011 award at Red magazine, and had been invited for tea with Sam Cam.
Julie and Freda outside 10 Downing St

"We were just sat in the car talking and we suddenly had to stop to get through security. Everything had been feeling normal, but then my mum turned to me and said, 'This is a bit odd, isn't it?'"
"Samantha Cameron was lovely though. She said to us that we shouldn't be nervous, and then my mum said, 'Oh, but I'm not! I feel like I've gone for a cup of tea with a friend.' I look back now and I'm thinking, 'Did I really go to Downing Street?' I don't really tend to dwell on things though, I'm always just thinking what needs to be done next."
Now though, business isn't just going well, but it's booming. They're teaming up with cult fashion label
Basso and Brooke
to produce a range of stunning bags for the summer. Think graphic, futuristic prints in vivid purples and sunshine yellows - satchels which are sure to make anyone stand out from the crowd at this year's biggest festivals. Just wait until you see these bags! They had both of us drooling...
Not only that, but their factory in Wigston, Leicestershire, is doing so brilliantly that it's being forced to expand - they even created 60 jobs there in the past year alone.
"The fluoro bags have just become so popular this year," Julie says, grinning. "It's hard to believe it really, but they really do glow. We may just have to make some more in different colours..."
The purple and yellow satchels are inspired by a bunch of Irises
Yet despite its massive success, both Julie and her mother are still very much hands-on. Between them both, they help to come up with new ideas for the bags (the purple and yellow satchel was inspired by a vase of Irises on Julie's windowsill), while Freda helps to package up the satchels on a day-to-day-basis!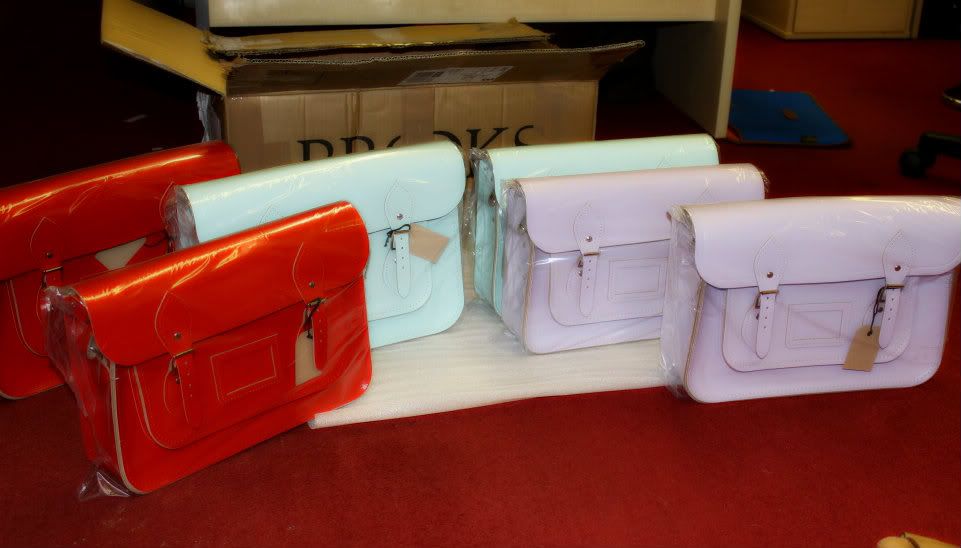 The new pastel bags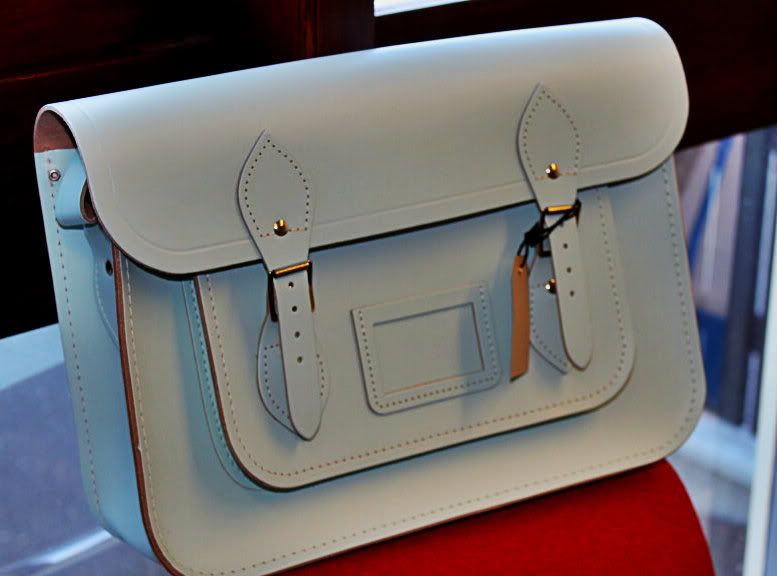 Our favourite baby blue satchel
So, what next? Well, the fabulous Basso and Brooke collaboration is set to be launched this summer, while a gorgeous range of pastel bags (delicate lilacs and baby blues) will be coming out in June. They're even thinking of becoming an established leather company so that they can produce other leather goods, such as luggage tags (this idea came about after a woman made away with Julie's plain black suitcase at a baggage carousel in New York!)
In a way which makes us proud to be British, the Cambridge Satchel Company is flying the flag for us internationally, and we feel sure that they're set for world domination in the years to come...